Mena Alexandra Suvari (born February 13, 1979) is an American actress, fashion designer, and model. Shortly after beginning her career as a model, she appeared in guest roles on 1990's television shows such as Boy Meets World and High Incident. She made her film debut in the 1997 drama film Nowhere. Her first major film roles were in American Beauty, for which she was nominated for a BAFTA Award, and American Pie. Since then she has appeared in Loser (2000), with her American Pie co-star, Jason Biggs, and later played the main character in the comedy film Sugar & Spice (2001). She had appearances in the 2002 independent drama Spun, and the 2004 thriller feature Trauma. She also appeared in the HBO's drama series Six Feet Under in 2004, she received a nomination as a member of the Outstanding Cast at the 2005 Screen Actors Guild Awards. In 2008, she was cast in a string of films, including Day of the Dead, The Mysteries of Pittsburgh, and the film adaptation of The Garden of Eden.
Suvari is a model for Lancôme cosmetics and print ads for Lancôme Paris Adaptîve, and has been featured in several fashion blogs and magazines such as Vogue. She is a long-time supporter and activist for the African relief organization, the African Medical and Research Foundation. She is also active in feminist issues, and is involved with charities whose cause is breast cancer, and "End Violence Against Women" campaign. Suvari was born in Newport, Rhode Island, the daughter of Candice (née Chambers), a nurse, and Ando Süvari, a psychiatrist. Her mother is of half Greek descent and her father is Estonian American. She has three older brothers. She began modeling as a preteen and soon after starred in a Rice-A-Roni commercial. The family later relocated to Charleston, South Carolina, where her brothers attended The Citadel. Meanwhile, Mena was entertaining dreams of becoming an archaeologist, astronaut or doctor, when a modeling agency stopped by her all-girls school, Ashley Hall, to offer classes. By the time she started acting, she had been modeling for the New York-based Wilhelmina agency for five years. After moving to the Los Angeles area, Mena attended Providence High School in Burbank, CA, graduating in 1997.
Suvari made appearances in television shows such as Boy Meets World and ER at the age of fifteen and sixteen respectively. She also appeared in a number of episodes of the television series High Incident. She played a girl named Ivy infected with HIV in the Chicago Hope episode "Sympathy for the Devil". She gained early notice for her performance as Zoe in Gregg Araki's low-budget drama feature Nowhere, alongside James Duval, Rachel True, Heather Graham, and Ryan Phillippe. She had a supporting part in the indie drama film Snide and Prejudice, which opened at the 1997 Cannes Film Festival. She played a small role as Coty Pierce in the 1997 thriller Kiss the Girls, where she appeared opposite Morgan Freeman and Ashley Judd. She next was cast in a supporting role in the independent dramedy Slums of Beverly Hills, which was released in 1998. It was on the set of this film that she met Natasha Lyonne, who would later join the cast of American Pie. In 1999, Suvari starred in the Academy Award-winning American Beauty, for which she received a BAFTA Award nomination for Best Actress in a Supporting Role and was also nominated for the "Favorite Actress - Newcomer" at the 2000 Blockbuster Entertainment Awards. Her performance as Angela Hayes brought her to the attention of a much wider audience. That year, she appeared as Heather in the popular teen comedy American Pie. The film was commercially successful, grossing $18 million, and gaining $102 million domestically and $235 million worldwide. She appeared as Lisa Parker in The Rage: Carrie 2, the sequel to the 1976 supernatural thriller Carrie. In the film, she played Emily Bergl's character's best friend, who commits suicide.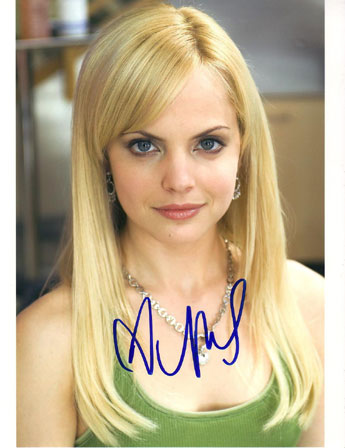 Suvari appeared alongside Keira Knightley in Tony Scott's Domino, an 2005 action film based on the life of bounty hunter Domino Harvey. Later, she played the character Annie, Jennifer Aniston's tennis-obsessed sister in the romantic comedy Rumor Has It, and co-starred with Queen Latifah and Alicia Silverstone in Beauty Shop, a spinoff of the BarberShop films, as Joanne Marcus. She performed the voice role of Aerith Gainsborough in the Square Enix/Disney video game Kingdom Hearts II and the English-language version of Square Enix's Final Fantasy VII Advent Children. She also had the main role along with Katherine Heigl in the 2006 film Caffeine, a romantic comedy about the relationships of the staff and patrons of the Black Cat Cafe in London one day. Suvari's final 2006 film was the biographical drama Factory Girl, playing Richie Berlin. The film premiered on December 29, 2006, and it portrayed the story of Edie Sedgwick and how she came into Andy Warhol's life.In 2007, Suvari was cast in Michael Corrente's film Brooklyn Rules, with Freddie Prinze Jr. and Alec Baldwin. The film is a crime drime drama which was released on May 18, in a limited release. Later, she starred in the Stuart Gordon's controversial independent thriller Stuck. The film premiered on May 21, 2007 at the Cannes Film Market, and opened in the United States on May 20, 2008. She had the main role in the direct-to-video horror zombie Day of the Dead (2008), a remake of George A. Romero's 1985 classic zombie film of the same name.
She appeared in the film version of writer Michael Chabon's novel, The Mysteries of Pittsburgh, also starring Sienna Miller and Peter Sarsgaard; in the film, Suvari played Phlox Lombardi, a strange girl who works at the book shop who becomes romantically involved with Jon Foster's character. The Mysteries of Pittsburgh premiered at the 2008 Sundance Film Festival. She was cast as Catherine Bourne in the film adaptation of The Garden of Eden. The film was released in 2008 at the RomaCinemaFest and had a limited investors' screening in the UK. Sex and Lies in Sin City, starring Suvari, is a Lifetime made-for-television film about the events surrounding the death of Las Vegas casino owner Ted Binion. Suvari will next appear in the romantic comedy film You May Not Kiss The Bride, which is directed by Rob Hedden and co-starring Vinnie Jones, Rob Schneider, and Katharine McPhee. Filming began in March 2009 in Hawaii. She is set to star in the horror film Last Stop, playing the character Tracy. Suvari is a model for Lancôme cosmetics and print ads for Lancôme Paris Adaptîve. She has been featured in fashion magazines such as Vogue. Suvari has collaborated with Echo Design to launch a limited-edition three scarf collection.
The project features her own nature-inspired photography, digitally screened on silk and silk chiffon as wearable art. The collection depicts trees in three stages of foliage from fall to winter; a portion of the proceeds from sales will go to the Natural Resources Defense Council. Suvari plays on the World Poker Tour in the Hollywood Home games for the Starlight Children's Foundation. She is also active in female empowerment issues. She is involved with several charities whose cause is breast cancer, the "End Violence Against Women" campaign, and tours high schools as a "Circle Of Friends" spokesperson, encouraging teenagers to quit smoking. Suvari married German-born cinematographer Robert Brinkmann on March 4, 2000. Brinkmann was seventeen years her senior. On April 24, 2005, Suvari filed for legal separation, citing irreconcilable differences; the divorce was finalized in May 2005. After her divorce she began dating dancer Mike "Murda" Carrasco, but they broke up after dating for several months. In 2007, Suvari began dating Italian-Canadian concert promoter, Simone Sestito, whom she met at the 2007 Toronto Film Festival. Suvari and Sestito became engaged in July 2008 during a vacation to Jamaica. They were married on June 26, 2010 in a private chapel in Rome. The couple chose Rome as their wedding locale because most of Sestito's family lives near the city.
Mena Suvari beautiful elegant face pose
Mena Suvari sexy performance pose
Mena Suvari beautiful and sexy pose
Mena Suvari sexy dress costume